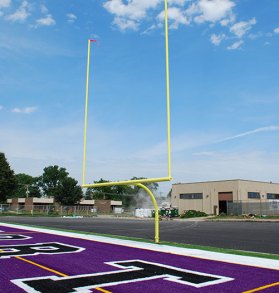 SportsEdge® offers a wide array of football goals to suit any team's needs, including our revolutionary Rotating Football Goal. With creative minds, superior engineering and the highest quality manufacturing, SportsEdge® is proud to produce what are simply the best football goals ever made. For information on related products, such as the SportsEdge® SEF390 Soccer Goal Anchor System and SEF304 Access Frame Kit, please refer to the football goals brochure.
SportsEdge® Football Goals
All Aluminum Construction
Standard Goals Include:
Adjustable Ground Sleeves
Hardware Kit
Wind Directional Flags
Touch-up Paint
6.5′ Offset Football Goals
These goals are most often chosen for stadiums or football fields that play football only or that may have depth restrictions behind the end zone.
8′ Offset Football Goals
Our most popular goal posts, these standard eight foot offset goals are a favorite for stadiums with multi-use football/soccer fields. If the budget will not allow for the SportsEdge® Rotating Goal Post, this goal would be the next best option. The deeper offset allows more room for the soccer goal to be flush with the football goal crossbar and share a common goal line; this is important for maintaining a full length (360′) soccer field.
Gooseneck
6.625″ O.D.
6′-6″ Offset
8′-0″ Offset
Crossbar
6.625″ O.D.
23′-4″ High School Width
18′-6″ College/Pro Width
Uprights
4.0″ O.D.
20′ Standard (Meets NFHS and NCAA Requirements)
30′ Pro Style Optional
Tough Powder Coated Finish
Available in Yellow or White
Football Goals Downloads