Rubber L Curb
Built To Last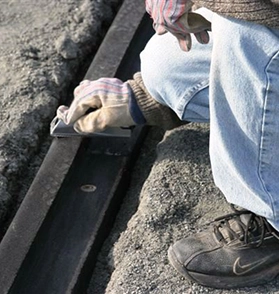 Athlete safety is the paramount concern in the design and construction of athletic fields. The FlexEdge Rubber L-Curbs are manufactured specifically for safely bordering synthetic turf fields. The L-Curbs can be used as a continual rectangular border for a stand-alone field, as a divider between two synthetic fields, or across the D-Zone behind the goal area…anywhere there would otherwise be a concrete border. In every application, only resilient rubber is exposed at the surface and concrete curbs are eliminated.
Pre-manufactured 90 degree outside corners eliminate field fitting. And traditional synthetic turf nailers can eliminated. The L-Curb has a 1.5″ ledge on one side that is used as the attachment point for the turf, contains the infill and minimizes trip hazards.
Eight foot (8') lengths install quickly reducing labor time and cost. The complete kit includes anchoring pins, joint sealant and a UV top coat with application tools.
This high quality rubber product is built to last!