FlexEdge Long/Triple Jump Pits
Safer, Better Looking, Less Expensive, Easier to Install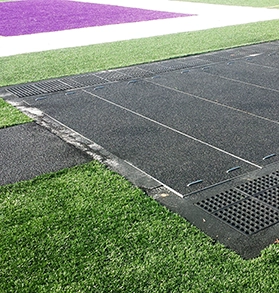 SportsEdge is once again proud to be the market leader in developing and bringing the safest and most innovative products to the sports construction industry. The latest game-changing innovation from SportsEdge is the FlexEdge Long Jump Pit System. No longer is a designer or owner limited to unsafe concrete curbs or complex and expensive aluminum forms. Made completely from recycled rubber and urethane binders, FlexEdge pits are attractive, affordable, easy to install and the safest solution for a potentially dangerous track event.
Whether the plan calls for a simple border curb or a more complex system with pit covers and/or sand catchers, SportsEdge has the answer. The durable pit forming sections come as a kit including pre-formed corners. No field cutting or concrete forming is required. The curbs pin directly to the sub grade and are connected to each other with a high-strength industrial adhesive.
The premier pit package includes rubber sand catchers with fiberglass grates and rubber cover mats. These more complex systems employ a concrete base slab to which the rubber forms are attached.
SportsEdge also manufactures the most user friendly pit cover set available. Sections are proprietary aluminum extrusions that, when filled with track material, are half the weight and more easily handled and moved than other cover systems.
All three models of pit configuration are available in 23', 26' and 29' lengths, for a total of nine different choices. In addition, the outside edges of the curb can be modified to accommodate the attachment of synthetic turf for a seamless, resilient, hazard-free surface.
All FlexEdge Jump Pit Kits are NFHS, NCAA and IAAF size compliant.
Safer - All Rubber Curbs are the safest for the athletes; no more dangerous aluminum edges or concrete curbs
Better Aesthetics - Simply the best looking finished long jump pit on the market
Cost Savings - Less expensive than aluminum pit form systems, both in Material and Installation Costs
Installation - Easier to install than aluminum pit form systems or concrete curbs.
Safer, better looking, less expensive, easier to install...how many products can say that?