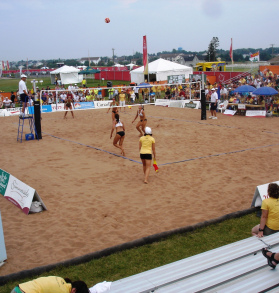 Beach Volleyball is a very popular and fast growing sport all over the world and is especially popular in the United States. It is now recognized by major international sports associations, such as the International Olympic Committee and the International Volleyball Foundation.
USA Volleyball, AVPNext, the California Beach Volleyball Association and the AAU host many major beach volleyball tournaments.
FlexEdge™ Rubber Borders for Beach Volleyball Courts improve athlete safety by eliminating potential dangers from more traditional wood, plastic and concrete borders.
Beach Volleyball Rubber Border Downloads