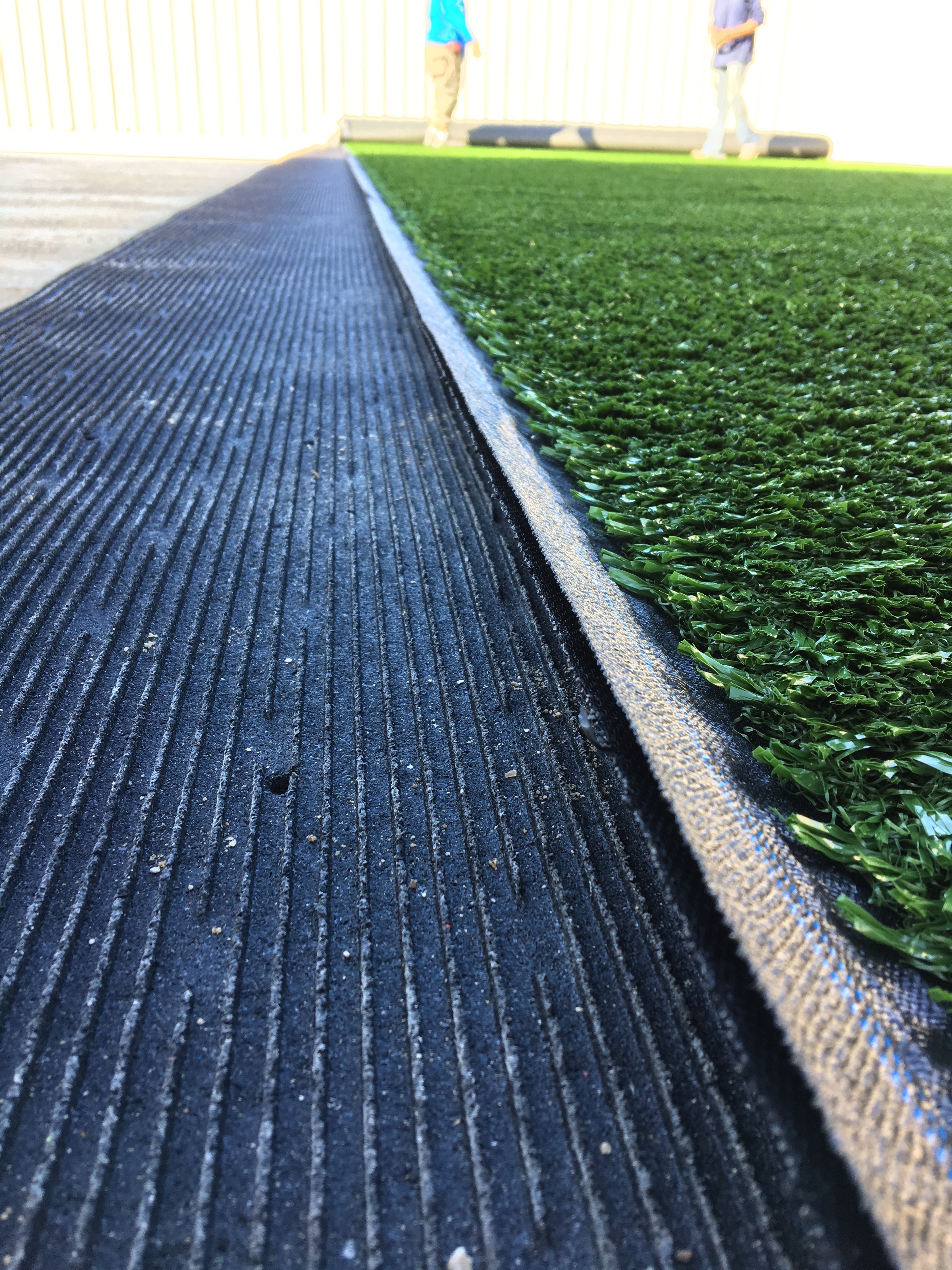 Superior Drainage, Shock Attenuation & Sports Performance
ShockWave® is State of the Art Technology in Drainage and Impact Attenuation for synthetic turf. Proudly Made in the USA from Polyethylene encapsulated SBR granules; ShockWave provides superior impact attenuation and excellent drainage. With a single product, ShockWave reduces both the cost of material and installation.
ShockWave Benefits:
Superior Impact Attenuation
Excellent Drainage
Fast Installation- Lays Flat, Stays Flat
High Transmissivity
Horizontal or Drain-Through Profile
100% Recyclable
No Volatile Organic Compound (VOC) release
Made in the U.S.A. Meets Buy-America requirement
Rapid Drainage with Superior Permeability and Transmissivity
Horizontal Drainage Applications: ShockWave™ without Vertical Drain Holes
ShockWave is specifically designed to remove water from the field; a virtual flat pipe directly under your synthetic turf surface. Manufactured with built in lateral channels, ShockWave easily drains the most severe rainfall event. Rainwater that passes through the turf enters the ShockWave™ Drainage Channels. These channels are oriented down the cross slope toward the sidelines.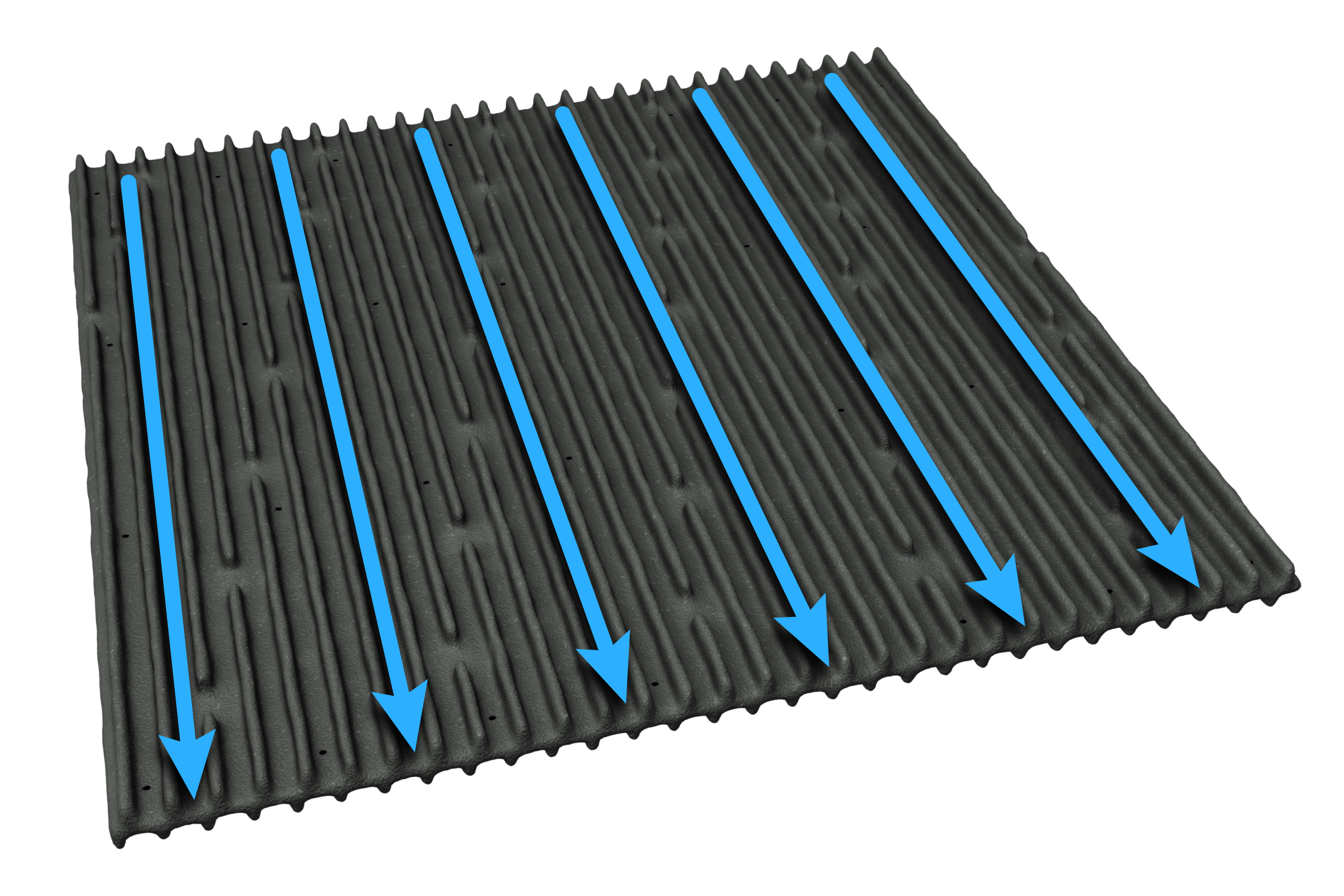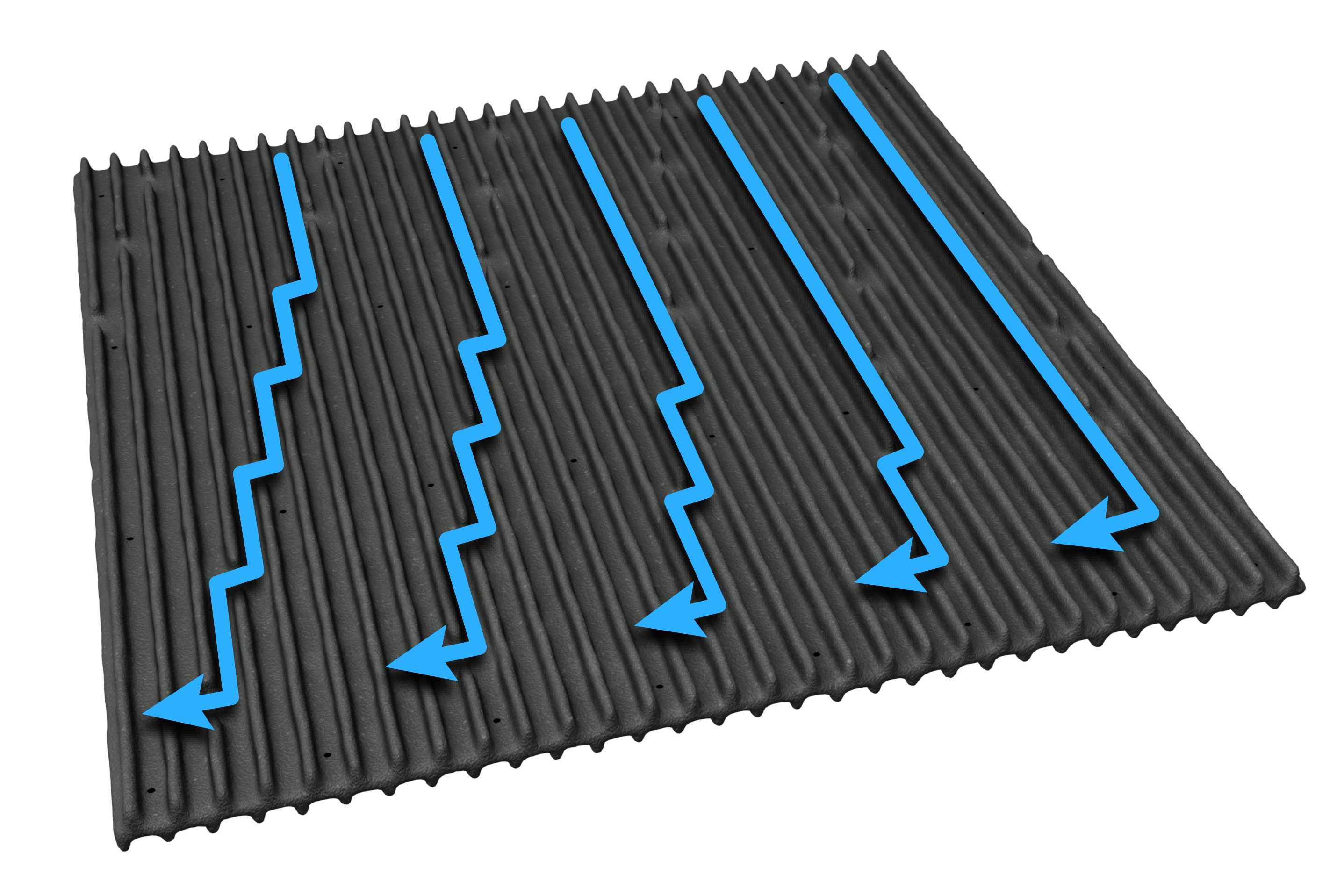 Vertical Drainage Applications: ShockWave™ with Vertical Drain Holes
ShockWave™ Drainage/Shock Pad is also the best choice for traditional vertical drainage designs for synthetic turf fields. ShockWave can be manufactured with vertical drainage capabilities to exceed any application. Rainwater passes through the synthetic turf and then through the ShockWave™ vertical drainage holes into the stone drainage layer. Though not required for vertical drain applications, the horizontal drain channels are a nice insurance policy for this application in the event the drainage layer shuts down or fails whatever the reason. These horizontal drain channels can carry excess water toward the sidelines where it can drain directly into the edge collector.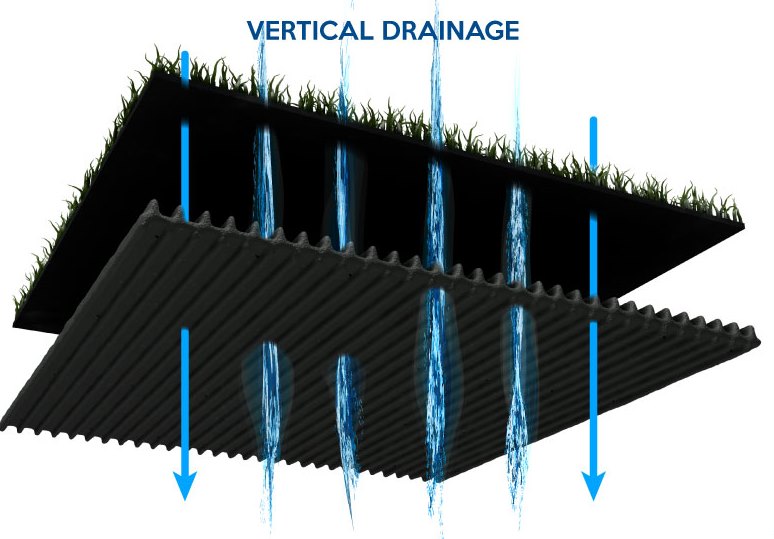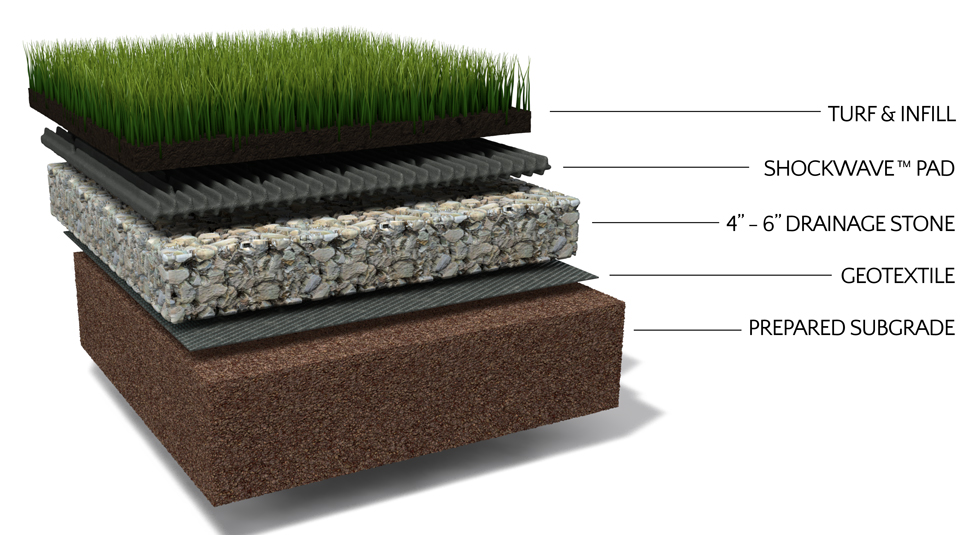 Exceptional G-Max Attenuation
ShockWave will enhance any synthetic turf system, providing a shock attenuation layer (Gmax) directly under the turf surface. Test data shows that using Shockwave on any turf system will result in an improved G-MAX throughout the lifecycle of the field and uniform shock absorption.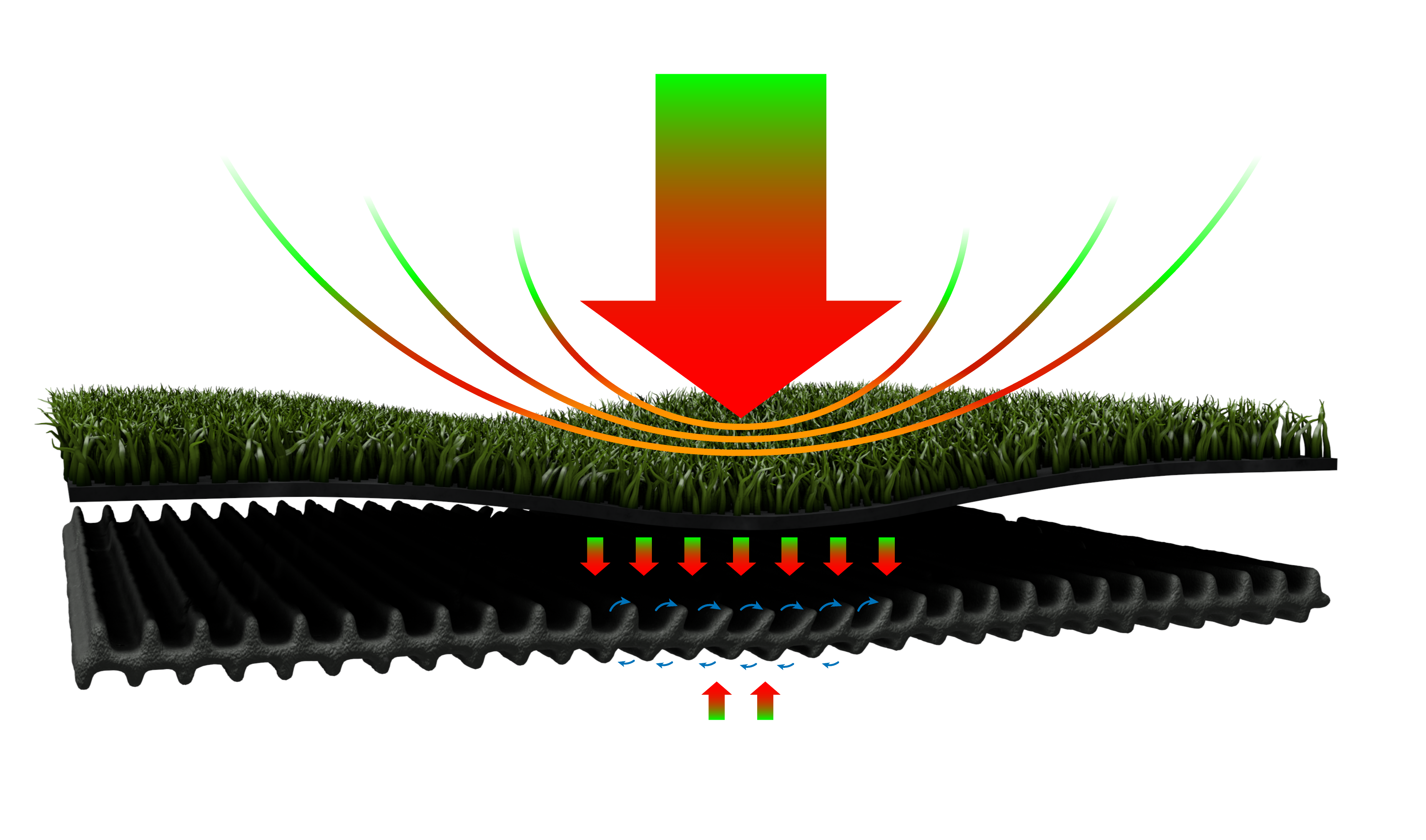 Lays Flat, Stays Flat…Conforms to the Subgrade
Flexible, with minimal thermal coefficient of expansion and contraction, ShockWave will conform immediately to the subgrade, and can be placed directly on prepared soils, asphalt, concrete, stone, or an existing e-layer.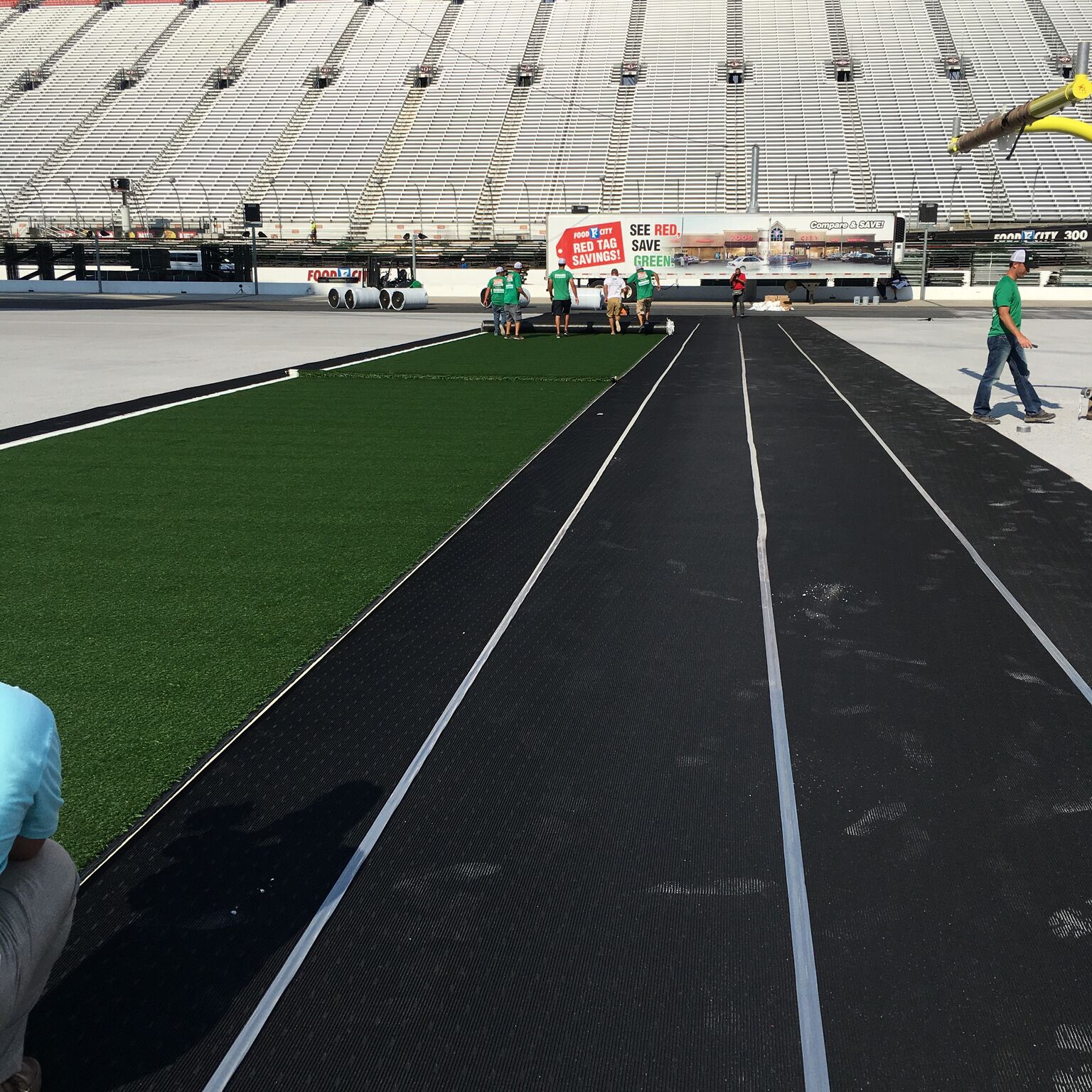 Innovative Junction System
Patented Locking System that allows each panel to be locked together, creating a monolithic structure over the subgrade.
Cost Saving Replacement to Natural Materials
ShockWave can eliminate the need for stone drainage layers, substantially reducing the need for excavation, removal and the replacement of aggregate or soil.
Environmentally Friendly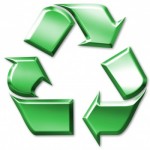 ShockWave contains 82% of End of Life Tires and is recyclable. ShockWave is Ionically Bound and there is No Leaching, and the average sports field with ShockWave uses the equivalent to 10,000 tires!