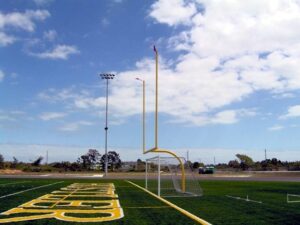 Several years ago, SportsEdge patented a rotating football goal whose entire structure can be rotated 360°. The need for this invention arose with the advent of multi-purpose fields in high schools and universities, where multiple sports are rotated onto the field regularly throughout the season…. even daily.
Both football and soccer teams prefer to play on a full 120-yard field. But when a soccer goal is placed underneath the crossbar of the football goal, there is typically only 12 inches of space between the crossbars.
This situation leads to conflicts when a shot on goal in soccer goes high. Which of the crossbars did the ball hit? Would it have been out of bounds or would have bounced back into play? For a while, the fix was to put additional stripes on the field and move the soccer goal forward. This was an undesirable approach……shorter soccer field and more line markings in the end zone.
The solution was to build a goal that could be rotated 180° around while playing soccer, taking the conflict off the table.