Ball Stop Systems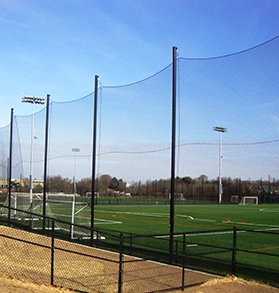 On modern multi-purpose facilities several sports share the athletic field. This situation can also create interference and congestion. The safety of all the athletes as well as the spectators is of paramount importance. Keeping stray balls contained with a SportsEdge ball stop system can alleviate these problems.
Ball Stop aluminum safety systems come in 20' wide sections and are available 10', 15', 20', 30' or 40' high and all come with ground sleeves. Pole diameter is increased as above ground height increases in order to appropriately counter wind loads. The largest poles are also available in steel for permanent, non-removable applications.
Black powder coating is standard. The vinyl covered steel cable running through the top and bottom of the net minimizes sag and prevents balls from rolling underneath. The nets are weather treated and vary in specification by each application and system.
Product Features
Fabricated from either 2–3/8″, 4″, 6″ or 8″ diameter aluminum tube.
Black powder coated aluminum poles are standard. Mill finish is available as well.
All Ball Stops stand in aluminum ground sleeves.
Taller custom Ball Stops (40'+) with steel poles are available. Poles can be removed, but are of substantial weight and are for more permanent applications.
A 3/16″ vinyl covered steel cable runs through the top and the bottom of the net to minimize sag and to prevent balls from rolling underneath.
Nets are weather treated and vary by each application and system.
Standard Ball Stop systems are available 10'H, 12'H, 20'H, 30'H or 40'H. Custom height sizes available.